Since we landed in Jojoba Hills it seems we have been on the run. We have both thrown ourselves into our activities as if we had never left. I won't recount every committee meeting or get together as much because I can't remember as it would be a total bore. I am running for the board of directors, as if that would surprise anyone, and Carol is reactivating our 4911 service which provides a park member, trained in CPR with an AED, on call when 911 is called to assist while waiting for First Responders to arrive. We have spent a day in Los Angeles with our family there as well. I get tired just thinking of all we have done. Oh yes, I have been playing Bridge
The weather has gone from midsummer highs in the high 90's to Fall with highs in the 60's with no intermediate. The sunsets continue to be wonderful.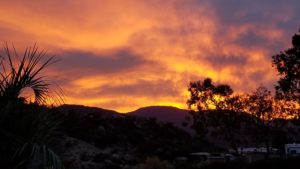 This view is from the pool deck looking over Palomar Mountain taken during Happy Hour in our newly updated covered patio. If you follow me on FaceBook , you have seen this image.
Our next "move" will be to Borrego Springs for Thanksgiving with Yechiel and family and Miriam Katz family. That will have us out of the park for four days. We have been exploring the candy store offered by OAT but with two trips scheduled already we are taking it slow for a bit.
As I look back over posts from years ago it appears we have become a bit more sedentary. However, in those days we were spending a lot of time in Rochester and our RV journeys were just that journeys. We plan to mostly stay in Jojoba Hills this winter and resume travel in May to Ireland. The plan is, as always, subject to change.