We have been moving. 1720 miles over 5 days. For the high mileage drivers among you, youngsters, that is a mere 2 exhausting days. For us it is an exhausting 5 days. We are stopped in Las Cruces NM at our regular campground, Siesta RV Park. It is basic, no pool, no lounge, no pavement. It does offer the services we want and a location we enjoy. We got off the road early, by 3 PM and will do very little until we roll on out on Saturday the 20th.
The most exciting story of this trek has been that it has been totally uneventful. We have listened to Dan Brown's Origin and are now almost finished with God of the Hives by Laurie King. We stopped in Monahans Sandhills State Park on I 20 in the Oil Patch, a familiar stop for us.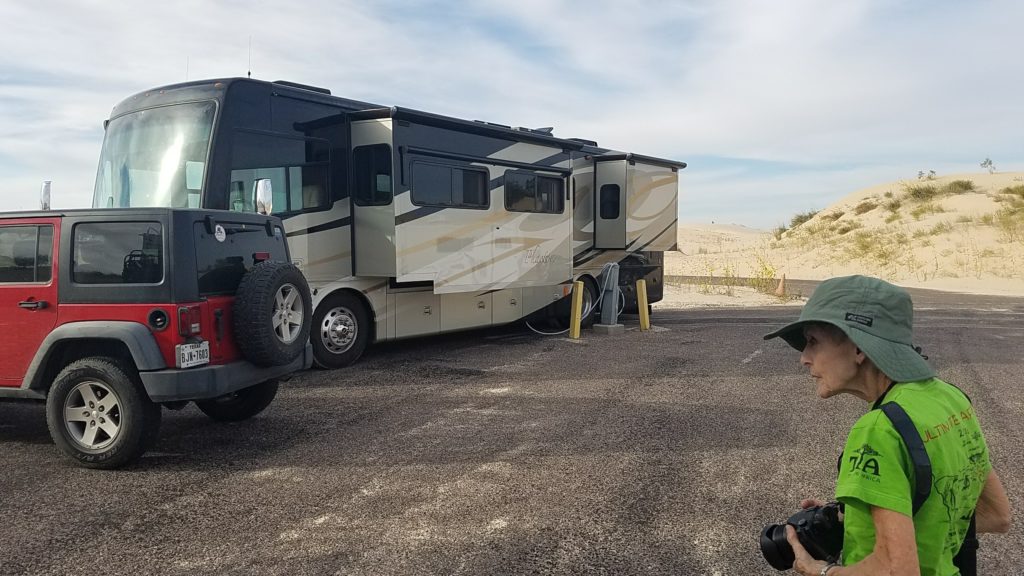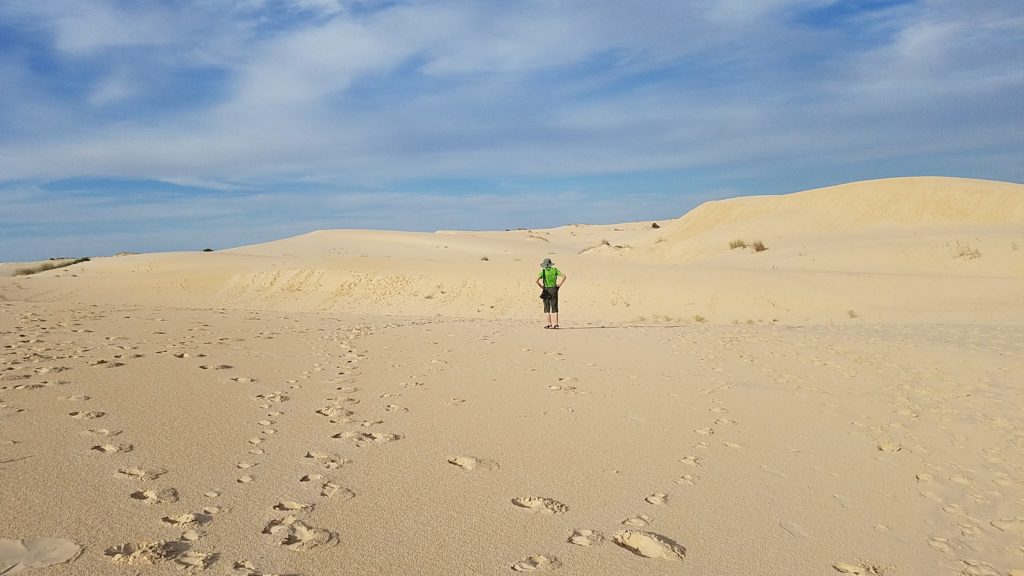 We went for a short walk in the sand hills and managed to lose sight of everything human created except for footprints and eventually people making them.
We have continued to live on a limited news diet. No more than 30 minutes with the NYTimes and NPR Morning Edition in the background while preparing and eating breakfast. We limit our rants about . . . to 5 minutes and turn everything off, resume listening to our story and trundle down the road. This seems to be much easier on the nerves. Sometimes I feel we are shirking our duty of being in turmoil and agony over the direction the government is headed. I am not running for any governmental office and I am not in a position to influence any politician other than by calling and emailing. these are very limited activities and I can only hope that someone actually counts the contacts. Our Senators are Cornyn and Cruz and our Congress idiot is Brian Babin, none of them are likely to ever do anything I consider useful or constructive.
Hmm, that sounds remarkably like a rant, time's up.
We are looking forward to getting to Jojoba Hills SKP Resort on Monday to resume our activities there. The remaining stops along the way may be Benson AZ, Peg Leg Smith Monument, or other boondocking areas along the way as the spirit moves us.
Note I am still learning to use WordPress and some formatting is a bit of a challenge. I will improve 🙂