After a way to brief visit, we left Covesville VA to begin our return to our southern California home base in Jojoba Hills SKP Resort by going the "wrong way" as usual. Our first stop was Charlotte NC to visit with Terry and David in their new home outside of Charlotte. As promised, their driveway was adequate for GeeWhiz and the Jeep and close enough to level for our needs. We had a delightful visit and dinner including David's daughter Greta extended almost to closing the restaurant. After breakfast the next morning, more than plentiful, we began the job of extracting the coach from the driveway. With Carol at the wheel we inched around the curved drive and avoided the mailbox with at least 2 inches to spare.
We set off for Hilton Head Island Motor Coach Resort and the Tiffin Travelers Rally. Carol negotiated Charlotte morning traffic and work zones with aplomb and eventually I took the helm for the second half of the drive. I was looking forward to easy parking in a well established RV resort, forgetting, or maybe just not thinking about, its being old too and designed, like Jojoba Hills, in a time when a BIG motorhome was 27 feet long! Winding narrow roads required an escort to guide us to the site and to assure we got situated without causing any damage to us or more importantly to the facilities. All done and it is indeed lovely.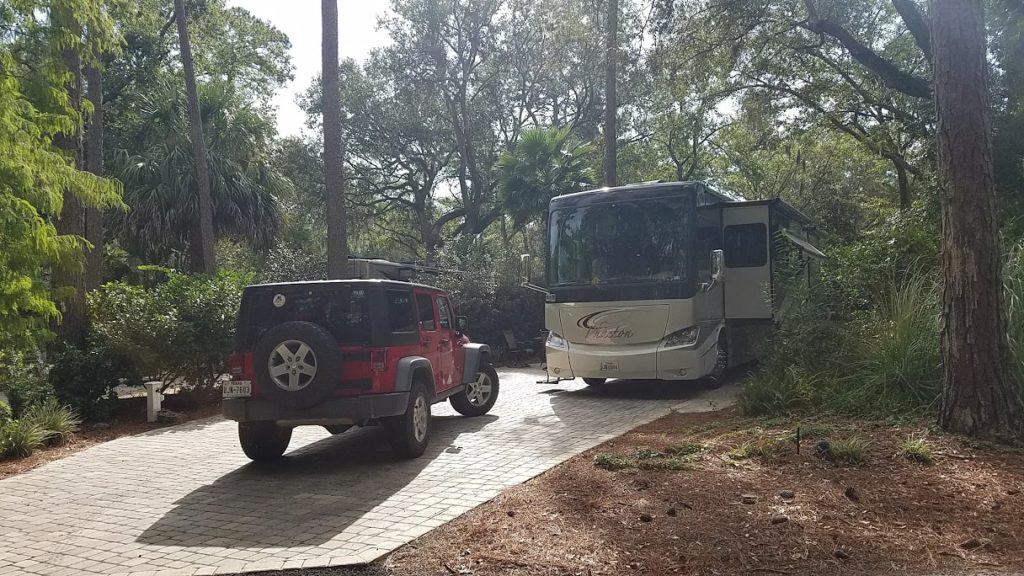 We will be here a total of four days and we are meeting new friends some of whom we have met in the past but a few years ago 🙂 We are touring Hilton Head Island today and will write about what we see and do as we go.