I am responding to a request from a reader to describe our time at the Museum of Jewish Montreal. We booked a tour "Making Their Mark, Montreal Jewish History Walking Tour" which met at the Jewish Museum. Car, Metro and hoof brought us to 4040 St Laurent the location of the museum with two hours to tour and have lunch. We walked right by it! Twice. This is more of a virtual museum. It hosts a cafe serving Jewish food.
I had a gefilte fish club sandwich for lunch, interesting. There were books on display and for sale and some pictures of old Jewish Montreal. There was a counter for the tours. Our walking tour was about two hours and we saw old synagogues, former synagogues, sweat shops, meat restaurants and schools. We walked though many of the alleys where life had thrived. One sweatshop in particular dominated the neighborhood. I was built by Leonard Cohen's grandfather and today it is instantly recognizable: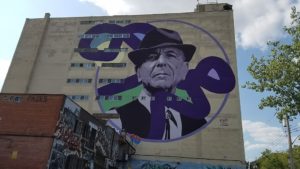 In short the Jews moved north in the '50's and '60's and many left Montreal with the development of the Separatist Movement. Most large corporations moved their headquarters to Toronto to continue to be able to be Canadian Corporations.
I would highly recommend the tour and the Food Tour which we didn't have time for. Don't allow two hours to tour the museum as we did 🙂 Two minutes is more like it, but have lunch.