Thus far travel has been uneventful, hope to keep it that way. Ottawa has been an eye opener. I remember driving through in our Corvette many, many years ago. I do not remember stopping. This time we have stopped for three nights slightly out of town, or more accurately in a part of town slightly away from the center of things.
We got in early enough to set up and relax before driving into the city late afternoon. We walked around the Rideau Canal locks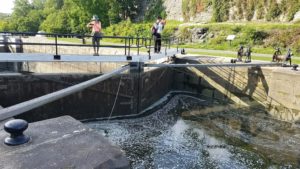 and looked at Parliament Hill and other sights such as the National War Memorial, before getting the car and returning to the coach for dinner and relaxation, we both have good books. We did book a two hour Free Walking Tour for the next day which provided a lot of information about the history of Canada and its government. I will not replay that here. Anyone who is interested can read any number of Canadian books on the subject. Don't bother with books published in the US, we have way too many biases, or in other words you will miss the Canadian bias. As our guide said "What is it that unites Canadians? We are not America!" Following our tour and a late lunch we went into the Canadian National Gallery figuring we could spend a couple of hours there. We did and needed as much or more time to really see more of it, but mind, body and clock resulted in our leaving. We had spent the first 45 minutes or so in a fantastic exhibit of Canadian photography from the 1960's to 2000. We then spent much of the remainder of our time exploring the modern era from the Impressionists (hardly modern I know) to work done in the past few years. We ran through earlier eras just to see what was represented there.
As we the drove toward the campground I pulled over to see Hogs Back Park where a dam was built in the 1820s to enable the construction of the Rideau Canal. We had to see the resulting falls and the locks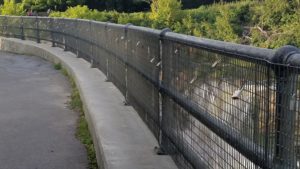 of the canal around them.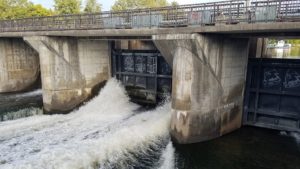 We stopped for dinner and returned to the coach to read and sleep.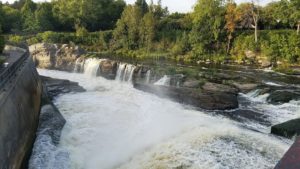 Today, our last day in Ottawa we stayed around the coach until after lunch then headed in to the National War Museum. I would think this is a must for anyone who does not know the history of Canada and how it relates to the US from pre revolutionary times through our Civil War. Even the construction of of the Rideau Canal plays a part in that story. The history following the Boer wars frankly was less interesting to me since Canada's role while significant was a smaller part and is greatly magnified in the museum, as it should be.
Tomorrow Toronto and family time.