Some random thoughts and some more experiences:
Random Thoughts; The road layout of this city makes Boston roads seem orderly and carefully planned. Wrapping roads around mountains and water without any seeming regard to the needs of people and vehicles has resulted in a jumble where three or more roads meet at a single junction at uneven angles resulting in traffic, depending on stop signs, crossing without being able to easily see vehicles approaching from several directions. There do not seem to be many through roads to get from one section to another. The result is we are totally dependent on GPS and Google Navigation for getting around, even to places we are returning to, such as our campground.
The campground, Pippy Park is located in a very large park in the middle of the city! From our location you would not know that we are in a city the size of Rochester NY. We are in a clear area surrounded by woods. Other sites are in the woods, but they would not accommodate us. It is quiet and pleasant here, if the interior roads were in better shape it would be wonderful. Note for other RVers, water pressure is about 100 psi, bring your regulator!
People are friendly! No, I mean REALLY friendly. We have spent most of our time in St John's and we are told that in rural areas they are even friendlier. Every place we have stopped to ask a question or just to say hello, has resulted in a conversation and an exchange of personal information and often suggestions of other places to see.
Experiences: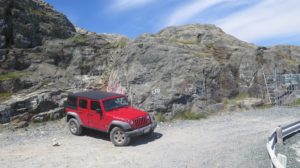 Saturday we set out on the Killick Loop up to Pouch Cove (pronounce that as if the "u" is "o") We made several stops along the way to ooh and aah the views of the ocean from the bluffs or down low from the shore. Once in Pouch Cove we noted a lesser road that continued further out on to Cape St Francis. This was especially interesting as we passed a sign that the road was maintained for 4 wheel drive vehicles only. "Maintained" was an exaggeration. This brought us to the site of the former Cape St Francis Light House. For the light house crazed among my readers there are at least 56 manned and unmanned light houses remaining in Newfoundland and Labrador.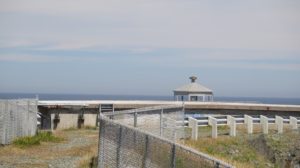 Cape St Francis Lighthouse
We returned from the loop and stopped at Signal Hill in St John's which has served as the focus of many battles between the French and the English in the 1700's and served significant military purpose as late as WWII. Oh yes Marconi sent messages from Signal Hill using balloons and kites to support his antenna. He was not permitted to build his main station here as the cable company filed suit preventing immediate action. Marconi left and set up his station in Nova Scotia. Click on this link for much more.
We decided to seek dinner on Duckworth St in downtown but away from the festival area by a block. We had a list of possible restaurants from Google and Trip Advisor. We decided to walk and look, checking menus as we went. Our second stop was Get Stuffed. It looked good and they had an interesting vegetarian option for Carol. We made our excuses and wandered further before deciding to return there. A table was available, unusual for a Saturday night, and we were seated immediately. My Cod was wonderful and Carol's salad was as well. The staff were friendly – this is Newfoundland after all – and we would send anyone we know there. Prices were moderate!
And so we sit on a rainy day looking for one more thing to do here, indoors!